When Manchester United finally gave in to Leicester's demands and parted ways with £80m to make Harry Maguire the world's most expensive defender in the summer of 2019, it's safe to say more than a few eyebrows were raised.
But the England international came in and actually made quite the impression. Was he perfect? No, not at all. But he did become an almost undroppable figure, playing 55 times in all competitions and helping United keep 27 clean sheets in all competitions. Yes, 27, that's not a typo.
Oh, and he also did enough to convince Ole Gunnar Solskjaer that he was the man to take on the responsibility of becoming captain just months after joining. While Maguire's simply ridiculous price tag couldn't just be ignored, there is no denying the positive impact he had at Old Trafford during his first season.
After finishing third in the Premier League to qualify for the Champions League this term, as well as reaching three semi-finals, there was reason to be optimistic for United fans as well.
But how quickly this optimism has vanished and been replaced by anger and exasperation.
After just three Premier League games, Man Utd have conceded…11 goals. Yes, you did read that right – 11 goals in three games. And perhaps what is most alarming about this is that it could actually have been much more (how?!).
The recent 6-1 humiliation at the hands of none than other former boss Jose Mourinho was shambolic from start (literally, the first second) to finish. While some have claimed that Anthony Martial's red card changed the game, the reality is that the Red Devils' defence had already been exposed a number of times prior to then in embarrassing fashion.
Of course, not only as the leading centre-back, but also as captain, Maguire has come in for plenty of criticism. And quite frankly, it is justified as he has made a number of routine mistakes in the early parts of the season and just hasn't looked himself.
The manner in which the six goals were let in against Spurs was most concerning, with each goal preventable had the defensive line been organised and in communication. But as it was, the north London club had outrageously large amounts of space to work in and simply strolled towards the United goal.
Even when the first, second, third, fourth…fifth and sixth goal went in, there was simply no reaction. Maguire – the man tasked with inspiring his team and showing the fight to stay in the game – was nowhere to be seen. Actually, that's not quite true, he was stood watching with his hands on his hips as Martial was shown the red card.
The recent performance has led to questions as to whether Maguire is good enough to be a Man Utd centre-back, as well as questioning whether he should even be holding the captaincy.
A number of players departed after the Spurs game to join up with their national sides, with Maguire being recalled to the England team. In one way, after such a humiliating defeat, Solskjaer and his squad will not have wanted to have to wait so long before being able to put things right in their next game. But on the other hand it offers, particularly Maguire, the chance to hit the reset button and come back with a clear mind.
The former Leicester man didn't feature for the Three Lions in their friendly win over Wales, but with two important Nations League matches still to play, Maguire is expected to return to the starting lineup. For Maguire, the international break has seen him taken out of the limelight and the pressure eased. This chance to train in a calmer and more relaxed environment, while wearing the England colours, could be just the thing he needs right now.
After all, he is the captain of Man Utd and is expected to remain the key figure at the back. As a result, it's important for everyone that he uses this time away from the club wisely in order to best prepare him for when club football resumes.
Despite what many have claimed, Maguire was influential last term (even if he wasn't perfect), and his difficult summer has clearly impacted him in some way. But it's vital that he is able to rediscover his confidence and leadership to help get United's season back on track. This is especially the case considering their run of fixtures after the international break.
Man Utd's next seven games come against Newcastle (away), Paris Saint-Germain (away), Chelsea (home), RB Leipzig (home), Arsenal (home), Istanbul Başakşehir (away) and Everton (away).
Yikes.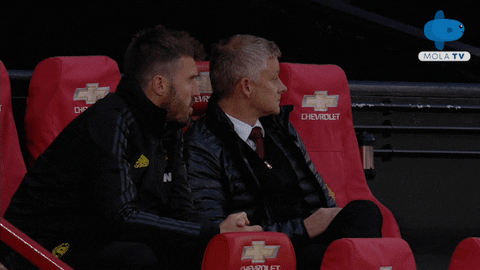 Perhaps Solskjaer will continue to look to find the right partner for Maguire (Axel Tuanzebe is now once again an option), but ultimately, he will require his captain to be at his commanding best if they are to navigate this difficult next month successfully. With Alex Telles likely to also come straight into the defence at left-back, Maguire will be tasked with the responsibility of supporting the new arrival as he adjusts to his new surroundings.
The mood around the club and the fanbase is tense and the circulation of rumours regarding the alleged divide in the dressing room hasn't helped matters either. But Maguire proved during his first season that he has the mentality to turn things around and help United get their season back on track.
Make no mistake about it, the Red Devils have made a woeful start to the campaign (their transfer activity hasn't helped matters either). But the international break came at the perfect time for Maguire as a series of hugely challenging and potentially season-defining fixtures soon await his team. The club will need their £80m man now more than ever.
For more from Adam Aladay, follow him on Twitter!